Activism, as we understand it, cannot be done without solidarity. For our current ACTIVIST IN RESIDENCE; we have Oshnur ALT from Pereira/COL as a guest in Berlin. Here we will inform you about all the events and initiatives Love Lazers has organized in Berlin from August to November 2023.
BERLIN, 28th OF OCT, 2023 

15:00-18:00h
THE "NO SHADE, BUT" TALK SHOW
Is competition the irrevocable DNA of ballroom? A latin and german Ballroom Roundtable on Love Lazers LLTV (open to public, with talkmaster and filming for video streaming in COL later) at Tuntenhaus Hasenstübchen/ Kastanienallee 86 (free admission)
18:00-22:00h
KATERFRÜHSTÜCK + COCKS AND TAILS SOLI BAR
Dinner by voluntary donation and open bar with music, open end, open to all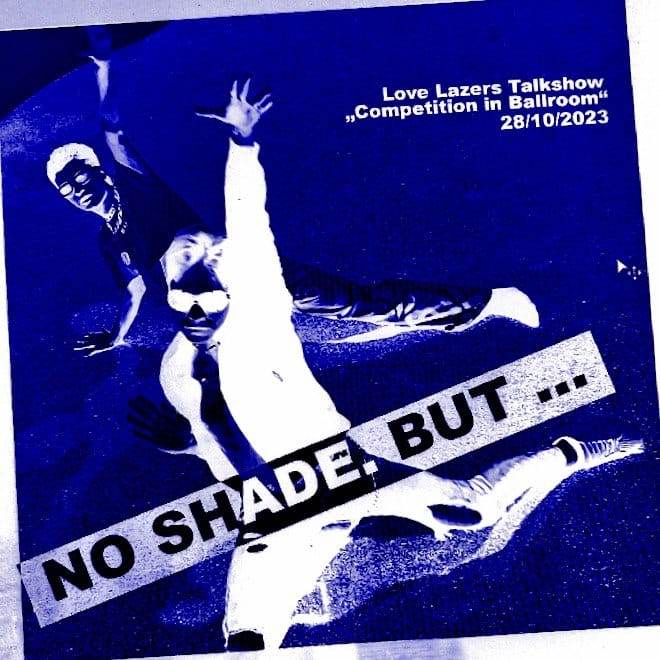 The "NO SHADE, BUT" Talk Show
Is competition the irrevocable DNA of ballroom?
A latin and german Ballroom Roundtable on Love Lazers LLTV
28th of Oct 2023, 15h
Kastanienallee 86, Berlin
No Shade, but … what does actually a chop mean? How to get their tens in a category? Does the winner take it all? What makes a judge a judge at a ball? Are grand prizes the essence of ballroom? How exactly does it look to compete, how does it feel not to win? Is there anything beside fame, cash and grand prizes? What more is ballroom then? And is ballroom anyhow unimaginable without competition? How can a community find good relationships: to each other and in healthy proportion to what makes us sick, but tick.

The NO SHADE, BUT Talk Show invites members of the Berlin and Leipzig ballroom community to have tea and talk about it. Hosting talk master Oshnur Alt from Pereira/Colombia brought the posing of this question about competition/ballroom from an event in earlier this year: the KIKI VIRAL about HIV stigma in the scene. A good occasion to connect the Berlin ballroom community with the ones in South America: Networking on screen and having a conversation about our interests, feelings and the utopias of ballroom. The talkmaster will allow comments and questions from the audience. So, join us in our TV studio, where the show will be filmed for a later screening at a Love Lazers event from Pereira, including a broadcast of this show online in January 2024.

The NO SHADE, BUT Talk Show is meant as a network meeting. Love Lazers organises and produces the show. The public talk will take place as part of Katerfrühstück: queer, solidary, organic selfmade cuisine for all, at the queer Berlin house project Tuntenhaus (Fag's House), this time for once on a Saturday after the show!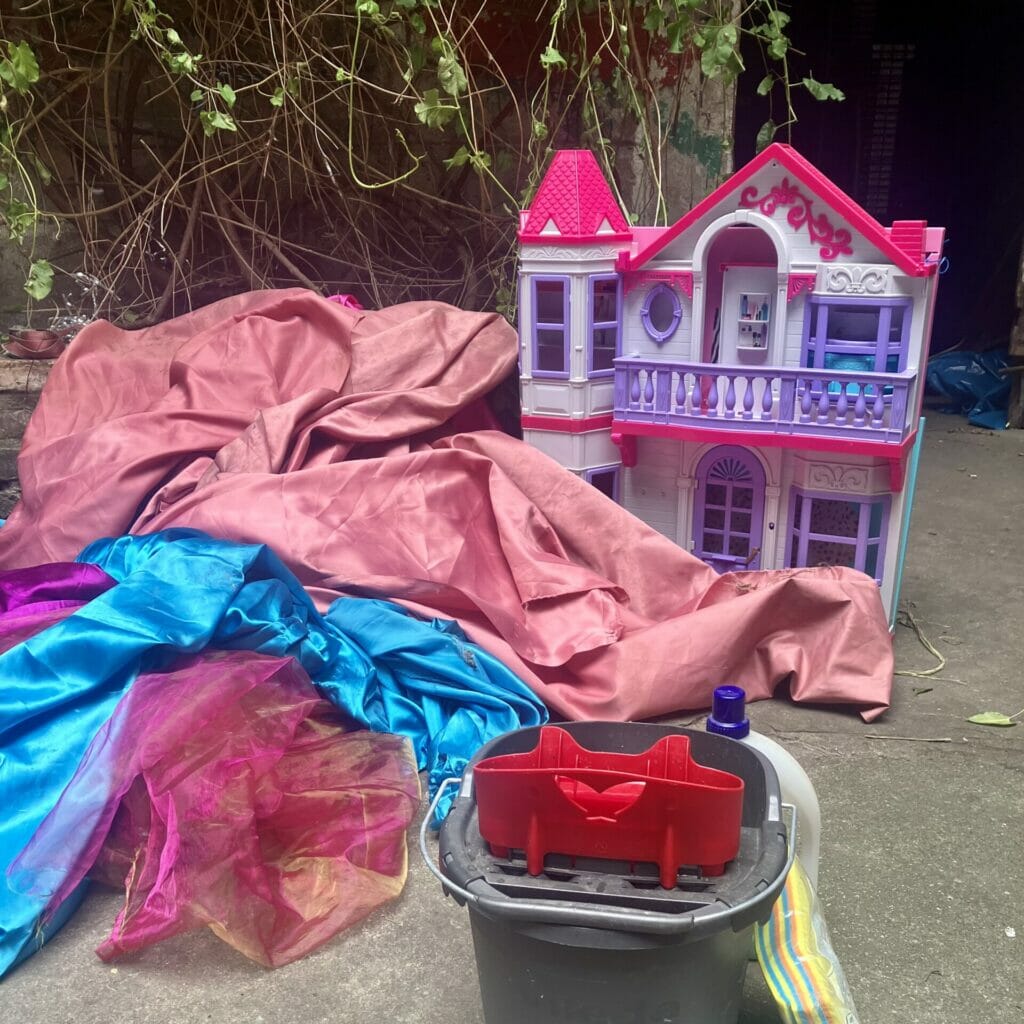 AKTIVISMO TAKEOVER WEEKEND: LOVE LAZERS IN ROSTOCK OCT 20th-22th

Oct 20th (Fri)

19:30h
VOGUING AND BALLROOM IN CINEMA
Screening+Movie talk in Kiezladen, Niklotstr. 13

Oct 21st (Sat)

11:00-13:00h + 14:00-17:00h
CULOS FOGOSOS
Ballroom/voguing Workshop with Oshnur in Kiezladen, Niklotstr. 13

19:00h
THINK LOCAL, ACT GLOBAL – How to act queer and globally in solidarity today?
Talkshow and information event on the transcontinental work of Love Lazers in Colombia and Europe (Host: Barbara Garbitch) in Median, Niklotstr. 5
22:00h
LOVE LAZERS QUEER SOLI PARTY
in Median, Niklotstr. 5, with solibar, giant lollypop and oldschool-neo-italo-queer-latino-soli-pop-disco+parallel Tee-Stube with Love Lazers Activist TV Lounge, Poetic Typewriter with secret acceptance, make-up corner and info table in the Kiezladen, Niklotstr. 13.

Oct 22nd (Sun)
9:00-15:00h
NETWORKING MEETING
"Public Health in youth subcultures by means of networking, activism and new media/social media: Experiences from Berlin, Zurich and Pereira", in Kiezladen, Niklotstr. 13.

All events with the kind financial support of BDP e.V., in cooperation with Kiezladen Rostock, Awiro Rostock and with the support of QFF Queerfilmfest Rostock. Many thanks to all who participate and have participated!

DETAILS ABOUT THE SCREENING + MOVIE TALK 20th OCT. 2023
Join Us for a Fabulous Night of Film and Discussion!
We're thrilled to invite you to our upcoming Screening Night and Film Talk event featuring the iconic film "Paris is Burning"! 
Date: 20th Oct (Fr)
Time: 19:30h
Location: Kiezladen, Niklotstr. 13
"Paris is Burning" is a groundbreaking documentary that takes you into New York City's ball culture in the late 1980s. It's a powerful exploration of identity, self-expression and the pursuit of dreams in a context marked by the HIV crisis and racism.​​
After the movie we will have a conversation where we try to answer questions, which the movie brought up; share experiences related to the world of ballroom, talk about the importance of ballroom in our society today and much more.
We will be happy to share this cinematic experience with you!

DETAILS ABOUT THE WORKSHOP 21th OCT. 2023
This workshop aims to introduce people to ballroom, a counterculture born and raised since the beginning of the seventies in Harlem, New York, between queer and trans black, brown and latinx people who were marginalized from the masculine white cis-heteronormative society –and even from the LGBTIQ+ spaces–. Crystal Labeija, a black trans woman who used to participate in drag balls, represented the state of Manhattan in a national drag beauty pageant in 1967, and just after getting the 4th place in the finals she walked off the stage and raised her voice against what she felt it was a notorious preference for white participants, a racial bias –she even had to whiten her face to be able to participate on the contest!–. Years after, in 1971, Crystal, Lotti and Pepper Labeija created their house –their chosen family– and made the first version of the Annual House of Labeija Ball, and so the official history of ballroom counterculture started as a safe space free from racist, homophobic and transphobic violence. 
Voguing, as the dance style that was born and has evolved into the ballroom culture, is a body language mainly inspired in the poses of fashion models such as Naomi Campbell –that is why it's called vogue, in deep connection with the name of the fashion magazine–, as well as in egyptian hieroglyphs and other influences. This dance style has five different elements or fundaments/basics, that combined and put together with clean transitions allows the voguers or performers to offer moments to the public and the judges.
Both, ballroom counterculture and voguing, have already a space in queer and trans communities in Colombia, started in Bogotá and Cúcuta around the same time at 2015, and spreading around other cities as it occurred in Pereira –Oshnur's city–, where the kiki scene emerged in 2019. In Colombia and in Latin America, ballroom is deeply rooted in the history that emerged and has been developed in the US, and at the same time it's evolving and being recontextualized due to the particularities of our territories, where racism has been camouflaged after the establishment of a colonial project of national state based on the discourses of pluriethnicity and interculturality, and where LGBTIQA+phobia continues taking our lives while we keep fighting for our rights.
DETAILS ABOUT THE NETWORKING MEETING 22nd OCT. 2023
Multiplier workshop with exchange of experiences, media analysis according to the parameters of Living environment centering, Empowerment and Global Justice using the example of the materials of the activist group Love Lazers on PrEP, PEP and Undetectable. Elaboration of a solidarity campaign with the help of new media. Critiquing developmental approaches to public health care. The role of media use in the global activist struggle for access to health economic resources, using the example of international patent law for drugs and vaccines. Activist forms of campaign communication using streaming, street art and insta-activism as examples. Speaker: Christian Niño Posada a.k.a. Oshnur ALT from Pereira Colombia (workshop in Spanish language, not wheelchair accessible rooms, participation only with confirmation of registration, youth under 27 no participation fee, otherwise 120EUR, registration to: info / at / lovelazers.org).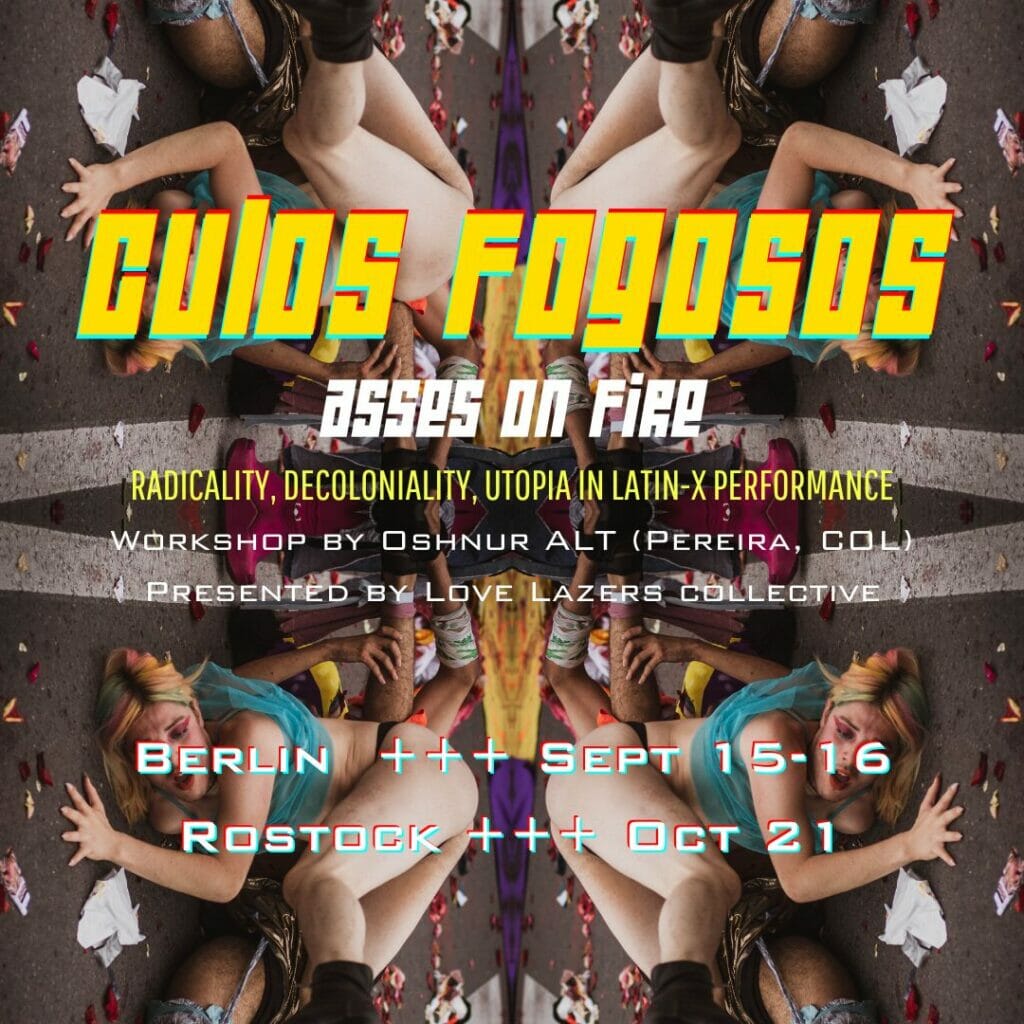 FURTHER INFORMATION:

Portrait "OSHNUR – MARICA ANTE TODO", 2021
Territories, appropriation, freeing – Oshnur brings us closer to practices related to the liberation of the body. Talking about their life, about the Vogue movement in the city of Pereira, Colombia, and about the importance of knowing our roots and showing who we really are by knowing where we want to go. This documentary introduces to an understanding of being political by being marica queer and dancing in the streets as an act of resistance and occupance. Every moment of our present can be an act of revolution. OSHNUR MARICA ANTE TODO is an intimate and subjective portrait of a fighter.

Filmed in Pereira, Colombia, on february of 2021.
Credits: A portrait by Dia Shi Dancing scenes filmed by Carlos Marín Edited by Exù Pery LOVE LAZERS TV FROM BOGOTÁ AND BERLIN
History lesson with Oshnur, 2021
Fleas. Lions. Exiled beasts from all orders of history converge and are ALTered in the present tense. In this "history lesson" Oshnur talks about León Zuleta, the magazine "El otro" and about 'La Pulga' and other trans woman sexual workers from Pereira.

Filmed in Pereira for the Love Lazers live streaming on sept. 11, 2021.
BEHIND THE SCENES

V.I.P. Paparazzo at the Love Lazers "COCKS AND TAILS SOLI BAR" backstage (Tuntenhaus Hoffest, Berlin, 2023)