Yes, there will be internet transmission!
Live transmission with talk and show, music and live entertainment in English and Spanish/German, partly subtitled. We wanna talk about stuff and have fun also. LLTV is about contact and live is live!
The TV station will be broadcasting live streamings from Berlin and Bogotá on two weekends. All the action is activist and no-budget. If you wanna support our transmission, please advertise it!
TO MAKE ALL TV DREAMS POSSIBLE WE NEED YOUR SUPPORT:
BOGOTÁ
March, 6th, 2021
Espacio KB, Cl. 74 ##22-20, Bogotá. Open to public all day!
FB-Event
Livestream
TIME TABLE (ALL BOGOTÁ TIME)
06:00 … Psicoactivos y Nightlife: DrugTalk
07:00 … Warm UP Drawing Love Lazer by Seranovski Manizales
07:40 … BARETAMARA (Tupamara) MINI DOCUMENTAL
07:50 … I HATE DANCING by LADY HUNTERTEXAS dj set
08:20 …"Asylum Talks" part 2 en español con subtítulos en inglés, by The PinkPost
09:20 … Aerobic in the snow part 1 (El Dorado/BOG)
09:55 … Entrevista a Jenny Toro 29' y Hallo Kiki! – Interview
10:45 … ON SCREEN WITH JENNY DIAZ: COLOMBIAN VIDEO ART FROM TODAY
11:45 … Territorio en contensión de Santiago Lemus
11:55 … HOT CLUB con Fr. Jpla dj mix, visuals from Fine Freiberg
12:55 … Calendario TRANS de El Olimpo & Red Comunitaria
13:30 … Paquita Gallego Dj set
14:30 … Aerobic in the snow part 2 (Dia Shi)
15:00 … OSHNUR MARICA ANTE TODO documentary
15:30 … TALK SHOW: Espacio Seguro con Juan Betancurth, Felipe Caro, Analu Laferal
16:30 … Pony TAMARA Video Performance
16:45 … Lectura Tarot con William Contreras
17:35 … Castlewhit3 Djset
18:05 … Pelitos Locos Video Performance (Corte de pelo)
18:15 … Home Story Manuel Velandia
18:35 … "Cocina PosPunk" from bogotá y küfa/pan rebelde/sancocho from berlin
19:00 … COBRA DJ SET
19:30 … "Cumbia Kallejera"
20:00 … Vagabunda Frita Video
20:20 … "Depresión" LA JAUS
20:25 … Pussy & Honey DJ set
21:25 … DEMONIA TAMARA PORN ART SCHOOL
21:50 … Showcase Píldoras Tapes: 21:50 Theories, 22:50 Gael, 23:50 Invalid User Dj Sets
BERLIN
Feb, 20th
from 14h CET all night long
with Timofey und Lava Volcánica (presentadorxs)
Broadcasting on both dates:
The Pink Post interviews with queers in Berlin about their asylum process here; The Dancing On The Streets Show with Gustavo Romero, ParkTransmission "Aerobic" with TeleSport instructions for you on the couch; Selfcare With Webcam with Pussy; Let's talk about Tuntenhaushoffest; Cosmic Geplänkel by Namosh (live); Cruising the Cruising Areas of Berlin (during quarantine) with Bambola (Music: Cristian); G-talk with guests about GHB/GBL safer use – introducing the translation of the Drug Scouts G-article on lovelazers.org; Live performance Dragkings Venus Boys and others; Darkroom TV; guitar concert by Amer Chamaa; Tupamaras SoS Assembly Interview and Performance (in Berlin); PrEP & HIV treatment update with Ben/Zürich and others; Hubert Fichte im Gespräch; Rehearsal with Tupamaras in the Studio live; Talking 80ies/90ies History with homo activist Manuel Velandia; The Spread-Hub Bogotá, KONVENT: what is queer?/DJ Olivia Mendez (Techno-Kollektiv); PornArt sShow by Demonia BOG; The Bob Önen-Ross Show, Video Art Platform with Camilo Huntertexas and Juan Betancurth; documentary "FURIA" about transsexworkers selforganisation in Duitama/Colombia, In talk with Daniela from Red Communitaria Trans Bogotá, "Fighter Maricon" a portrait about the vogue dancer Oshnur from Pereira/COL, plus a LiveChat open all streaming long!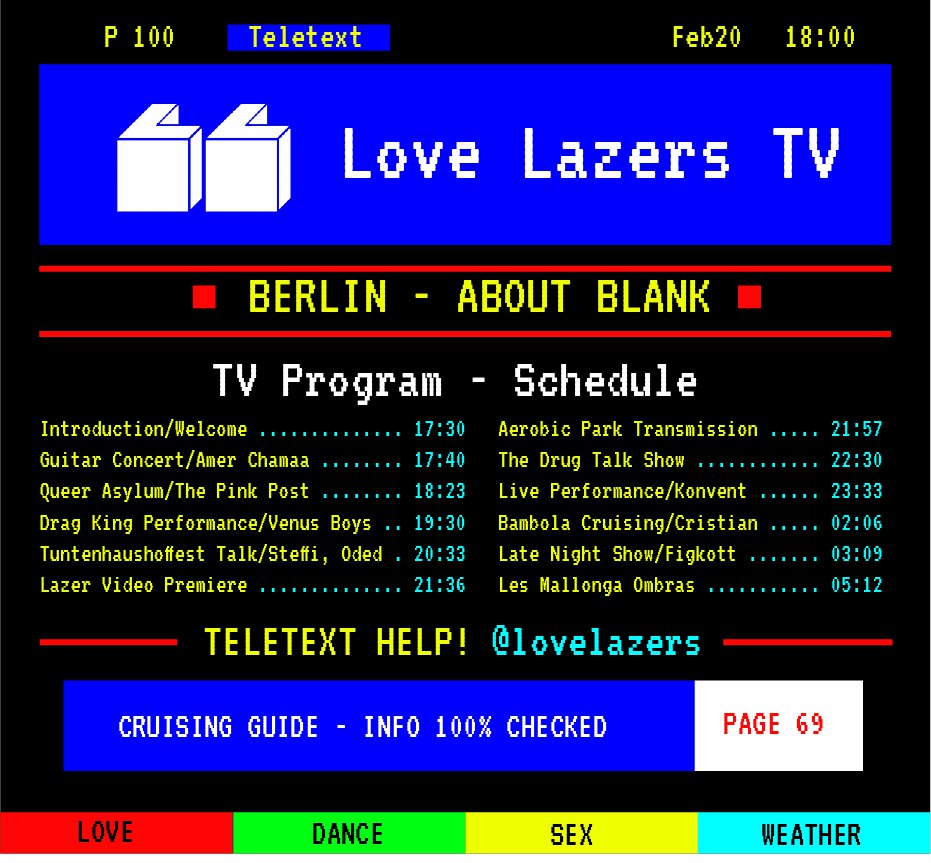 IN COOP WITH
Tupamaras, The Pink Post, Tuntenhaushoffest (queer summer festival Berlin), Morgenrotkeller , Spread-hub Bogotá (activist & artist residencies), SoS Assembly Berlin, Radio Plank and ://about blank Berlin (techno club), feminist radio SILLESTHA Berlin, Red Communitaria Trans, Studio Olimpo Santa Fe Bogotá, DJ Figkott/Berlin, Project Natural & Campesino (food/health/self sovereignty COL/GER), Konvent – Berlin based flint artivist collective, YOBAILOTRANS stream Bogotá
---
Oggi getto via questa maschera.