Yes, there will be internet transmission!
Live-Übertragung mit Talk und Show, Musik und Live-Entertainment in englisch und spanisch/deutsch, teilweise mit Untertiteln. Wir wollen über Dinge reden und auch Spaß haben. Bei LLTV gehts mal wieder um Kontakt und live ist live!
Die ganze Aktion ist aktivistisch und no-budget. Wenn Sie LLTV unterstützen wollen, machen Sie bitte Werbung dafür!
TO MAKE ALL TV DREAMS POSSIBLE WE NEED YOUR SUPPORT:
BOGOTÁ
March, 6th, 2021
Espacio KB, Cl. 74 ##22-20, Bogotá. Open to public all day!
FB-Event
Livestream
TIME TABLE (ALL BOGOTÁ TIME)
06:00 … Psicoactivos y Nightlife: DrugTalk
07:00 … Warm UP Drawing Love Lazer by Seranovski Manizales
07:40 … BARETAMARA (Tupamara) MINI DOCUMENTAL
07:50 … I HATE DANCING by LADY HUNTERTEXAS dj set
08:20 …"Asylum Talks" part 2 en español con subtítulos en inglés, by The PinkPost
09:20 … Aerobic in the snow part 1 (El Dorado/BOG)
09:55 … Entrevista a Jenny Toro 29' y Hallo Kiki! – Interview
10:45 … ON SCREEN WITH JENNY DIAZ: COLOMBIAN VIDEO ART FROM TODAY
11:45 … Territorio en contensión de Santiago Lemus
11:55 … HOT CLUB con Fr. Jpla dj mix, visuals from Fine Freiberg
12:55 … Calendario TRANS de El Olimpo & Red Comunitaria
13:30 … Paquita Gallego Dj set
14:30 … Aerobic in the snow part 2 (Dia Shi)
15:00 … OSHNUR MARICA ANTE TODO documentary
15:30 … TALK SHOW: Espacio Seguro con Juan Betancurth, Felipe Caro, Analu Laferal
16:30 … Pony TAMARA Video Performance
16:45 … Lectura Tarot con William Contreras
17:35 … Castlewhit3 Djset
18:05 … Pelitos Locos Video Performance (Corte de pelo)
18:15 … Home Story Manuel Velandia
18:35 … "Cocina PosPunk" from bogotá y küfa/pan rebelde/sancocho from berlin
19:00 … COBRA DJ SET
19:30 … "Cumbia Kallejera"
20:00 … Vagabunda Frita Video
20:20 … "Depresión" LA JAUS
20:25 … Pussy & Honey DJ set
21:25 … DEMONIA TAMARA PORN ART SCHOOL
21:50 … Showcase Píldoras Tapes: 21:50 Theories, 22:50 Gael, 23:50 Invalid User Dj Sets
BERLIN
Feb, 20th
from 14h CET all night long
with Timofey und Lava Volcánica (presentadorxs)
Ausgestrahlt werden an beiden Terminen:
die Pink Post interviews mit Queers in Berlin zu ihrem Asylverfahren hier; die Dancing On The Streets Show mit Gustavo Romero, ParkTransmission "Aerobic" mit TeleSport-Anleitung für Euch auf der Couch; Selfcare mit Webcam mit Pussy; Let's talk about Tuntenhaushoffest; Cosmic Geplänkel von Namosh (live); Cruising the Cruising Areas of Berlin (während der Quarantäne) mit Bambola (Musik: Cristian); G-Talk mit Gästen über GHB/GBL Safer Use – Vorstellung der Übersetzung des Drug Scouts G-Artikels auf lovelazers. org; Live-Performance Dragkings Venus Boys u.a.; Darkroom TV; Gitarrenkonzert von Amer Chamaa; Tupamaras SoS Assembly Interview und Performance (in Berlin); PrEP & HIV-Behandlungs-Update mit Ben/Zürich u.a.; Hubert Fichte im Gespräch; Probe mit Tupamaras im Studio live; Talking 80ies/90ies History mit Homoaktivist Manuel Velandia; The Spread-Hub Bogotá; KONVENT: what is queer? /DJ Olivia Mendez (Techno-Kollektiv); PornArt Show von Demonia BOG; The Bob Önen-Ross Show, Videokunst-Plattform mit Camilo Huntertexas und Juan Betancurth; Dokumentation "FURIA" über die Selbstorganisation von Trans-Sexarbeitern in Duitama/Colombia; Im Gespräch mit Daniela von der Red Communitaria Trans Bogotá; "Fighter Maricon", ein Portrait über den Vogue-Tänzer Oshnur aus Pereira/COL, plus ein LiveChat, der für alle offen ist!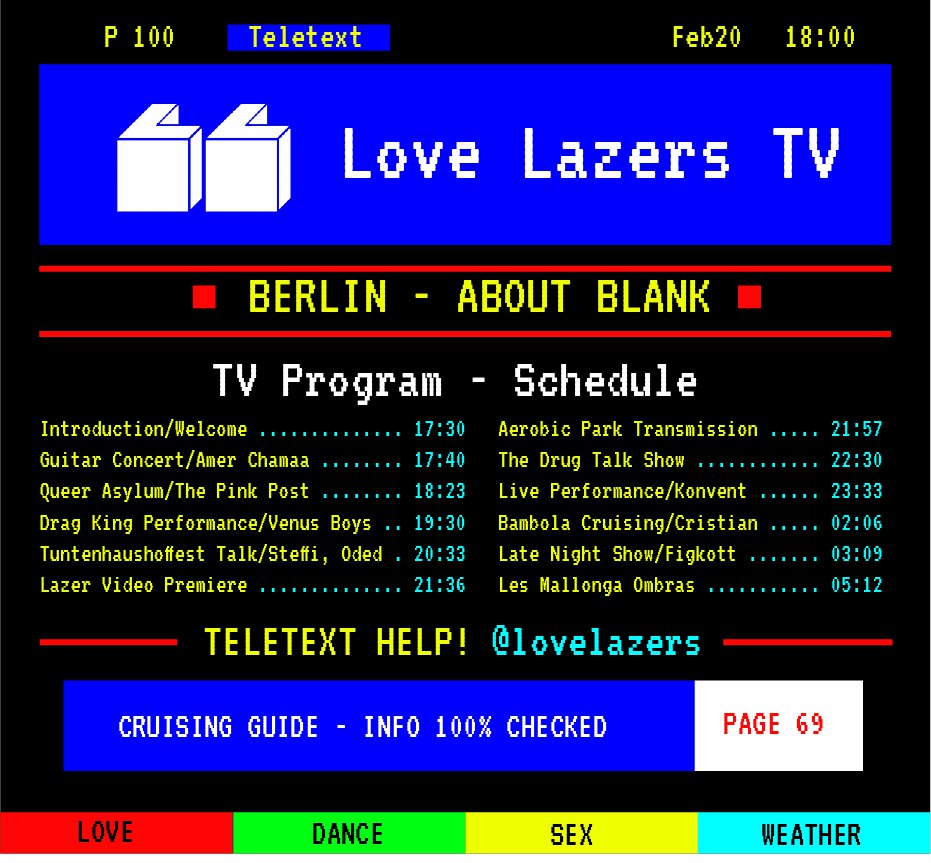 IN COOP WITH
Tupamaras, The Pink Post, Tuntenhaushoffest (queer summer festival Berlin), Morgenrotkeller , Spread-hub Bogotá (activist & artist residencies), SoS Assembly Berlin, Radio Plank and ://about blank Berlin (techno club), feminist radio SILLESTHA Berlin, Red Communitaria Trans, Studio Olimpo Santa Fe Bogotá, DJ Figkott/Berlin, Project Natural & Campesino (food/health/self sovereignty COL/GER), Konvent – Berlin based flint artivist collective, YOBAILOTRANS stream Bogotá
---
Oggi getto via questa maschera.