Alejandro from The Pink Post in conversation with Falk from Love Lazers about PrEP and the possibility of taking it daily or on demand. Who is PrEP for? Where do fears of getting HIV come from, even though being undetectable is completely safe? What is the point of view of people with HIV throughout the discussion? Can I hide my immune status in gay cruising apps (if I am asked)? And what happens if there is no agreement on condom/PrEP use during sex?
The video is on youtube, 15:39 min long and subtitles are available in English, Spanish and German.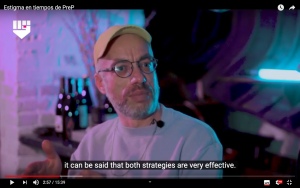 ---
The Pink Post is a platform that works for the repoliticization of the LGBTQI+ community. It understands the struggle from an intersectional perspective that does not analyze without taking into account oppressive and oppressed perspectives. The Pink Post does not forget the history of the LGTBIQ+ community. The Pink Post is queer, political, proletarian, feminist, anti-colonialist, ecological, anti-speciesist and anti-capitalist. The Pink Post defends journalism as a value that must embrace society as a whole in order to repoliticize it.